Time does not stand still.
It does not take excuses or do repeats.
The sun won't ask for your permission to set, a smile comes and goes, and a Falcon won't wait for your go-ahead to take flight.
When a moment comes, one that makes you feel, you should be ready to capture it.
Those moments of beauty are meant to be shared, feelings to be remembered, and images intended to be captured.
We are passionate about providing creators with the tools necessary to fight time, outsmart the odds, and break free to go on your adventures; sunshine, rain, or snow.
We build uniquely compact and dependable imaging systems with creator-centric innovations that allow you always to be ready to capture those once-in-a-lifetime moments.
Make it last forever.
Defy the moment, with OM SYSTEM.

"A true system should be compact and have impact."
– YOSHIHISA MAITANI
WE ARE THE DARK HORSE
We don't run in the race, never have, and never intend to. For over 80 years, we have blazed our own path, pushed the limits of technology, and broken barriers of common convention to put tools in the hands of those who have a unique vision, regardless of age, race, or gender. To help people break free.
We work for the photographer, and we know there's more than one way to take a photo, capture a moment, or build a camera.
Our first compact system, the OM-1, sparked a revolution that cut in half the total size and weight that photographers carried on their shoulders; while at the same time creating something smarter, tougher, and more discreet than the competition.
Since then, we have focused on creating cameras that do not yet exist, so photographers can do things previously impossible. Cameras that are compact but packed with impact so that they can be with you for those once-in-a-lifetime moments.

"I believe there are two barriers:
the technology barrier and
the barrier of accepted wisdom.
You can't achieve anything until
you break through both
of these barriers."
– YOSHIHISA MAITANI
LEGACY OF IMPOSSIBLE
There always comes the point where one must take their own advice, and for us, that time is now. We are breaking free from the past and beginning a new chapter, taking the best things from our legacy with us.
Starting fresh is scary and sometimes challenging, but as the great Yoshihisa Maitani before us, we are not afraid of doing hard things.
Our name may change, but who we are and what we stand for never will. Like before, we promise to climb walls of convention, break barriers of accepted wisdom, and advance imaging technology so you can defy those fleeting moments in time and capture something extraordinary. We're not stopping anytime soon. They thought halving the size of an SLR system was impossible, that hand-held starscapes were fantasy, or that a small sensor could not take big photos.
But look at us now. Doing the impossible is our legacy.

"If you don't have a camera, you can't take photographs…
With a camera you can carry
with you everywhere, you'll never miss that
once-in-a-lifetime moment again."
– YOSHIHISA MAITANI
DEFY THE MOMENT
So, where do we go from here? Wherever you go.
Life is out there in the unexpected, the adventure, and the wildest of moments. The types that touch us shock us or make us feel alive. We say that we should live for these moments, make today count, or seize the opportunity, but moments are fleeting and time cannot be controlled.
So what should we do? Just let it go? Give in? Give up?
We could. Or we could fight. Because to a select few, who won't let those moments go, and who cannot bear the thought of that beauty to never be seen again, for them, we exist.
For them, we build tools to fight time, to outsmart the odds, and break free to go where others never will; rain, shine or snow.
Images are not created with cameras; they are made with a system, which is only as good as the sum of its parts.
That is why since day one, we have strived to build a unique system that would enable adventurous, outdoor visual creators to break free and capture their vision of the world around them.
The OM SYSTEM, its core values, and advantages can be summed up into two words:
COMPACT IMPACT.
OLYMPUS OM-D E-M1 Mark III

LENS | M.Zuiko Digital ED 8-25mm F4.0 PRO

PHOTOGRAPHER

MOISES CUGAT

SHUTTERSPEED 1 sec.

F-STOP F8

ISO 200

OLYMPUS OM-D E-M1 Mark III

LENS | M.Zuiko Digital ED 12‑40mm F2.8 PRO

PHOTOGRAPHER

HANNU HUHTAMO

SHUTTERSPEED 0.5 sec.
Live Composite

F-STOP F5

ISO 200

OLYMPUS OM-D E-M5 Mark III

LENS | M.Zuiko Digital ED 8mm F1.8 Fisheye PRO

PHOTOGRAPHER

PETER BAUMGARTEN

SHUTTERSPEED 20 sec.

F-STOP F1.8

ISO 3200

OLYMPUS OM-D E-M1 Mark III

LENS | M.Zuiko Digital ED 150-400mm F4.5 TC1.25x IS PRO

PHOTOGRAPHER

BROOKE BARTLESON

SHUTTERSPEED 1/1000 sec.

F-STOP F4.5

ISO 500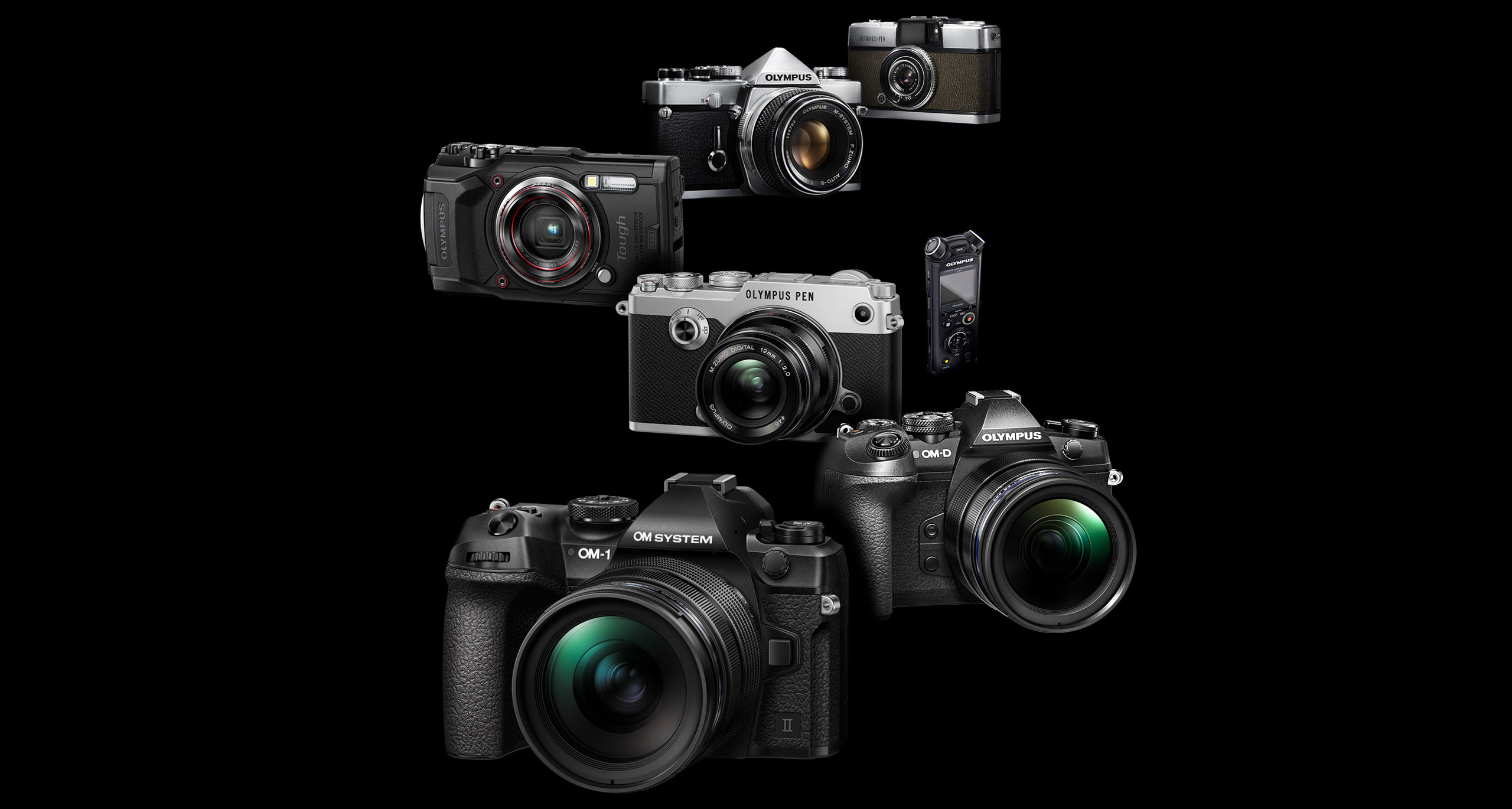 Doing the impossible is our legacy,
and we're not stopping any time soon.